click here for :2017 SHOOTING GALLERY
Welcome to The Players Page.

Here is your source for Dart League & Dart Tournament information in the D&R Star league area. You will also find information about important

notices, dart news & just about any-thing else I can think of to put here.

The tabs to the left will guide you through the web site, and I hope you find

this page useful.
Be sure to read the new PLAYERS MANUAL page to stay
informed of any rule or policy changes. CLICK below.
Upcoming Leagues & Events
MOMA State in Shakopee MN - Jan 24th - 28th
2018 301 "Throwback" Hovey Open Draw Doubles
D&R Star Sgls, Dbls & Team in Rochester MN - Apr 12th - 15th
Pink Ladies Cancer Fundraiser Dart Leagues
Adult/Youth Dart Leagues
Friday Night "Date Nite" Mixed Doubles Leagues
Contact D&R Star for information
about these leagues & Tournaments
or
Any other nights that you are interested in?
Doubles Leagues forming wherever there is an interest.
Todd Coughlin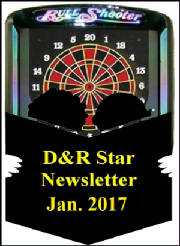 Click here for: Jan 2017Newsletter
Click here for: Nov 2016 Newsletter