Welcome to The Players Page.

Here is your source for Dart League & Dart Tournament information in the D&R Star league area. You will also find information about important notices, dart news & just about any-thing else I can think of to put here. The tabs to the left will guide you through the web site, and I hope you find this page useful.
Be sure to read the new PLAYERS MANUAL page to stay informed of any rule or policy changes. CLICK below.
TENTATIVE START DATES
Albert Lea
14-Sep
Albert Lea Cricket
4-Nov
Austin Thursday
24-Sep
Austin Sunday
11-Oct
East Country
8-Oct
Faribault Mon
12-Oct
Faribault Thurs
22-Oct
Faribault Sun
11-Oct
Lake City
7-Oct
North Country
7-Oct
North End
5-Oct
North End Sun
11-Oct
Northwest
15-Sep
Owatonna Thu
1-Oct
Owatonna Tue
22-Sep
Rochester Thursday ABCD
24-Sep
Rochester Ckt
23-Sep
Rochester Sun
6-Dec
Roch Whiskey Bones
8-Sep
Rushford
21-Oct
West Country
24-Sep
West End
5-Oct
Look below for the 2014 D&R Star Tournament Averages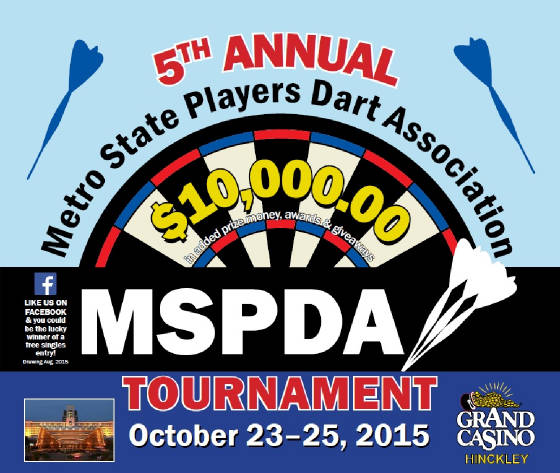 2015 D&R
Bullshooter Qualifiers
Click here for Bullshooter Player Stats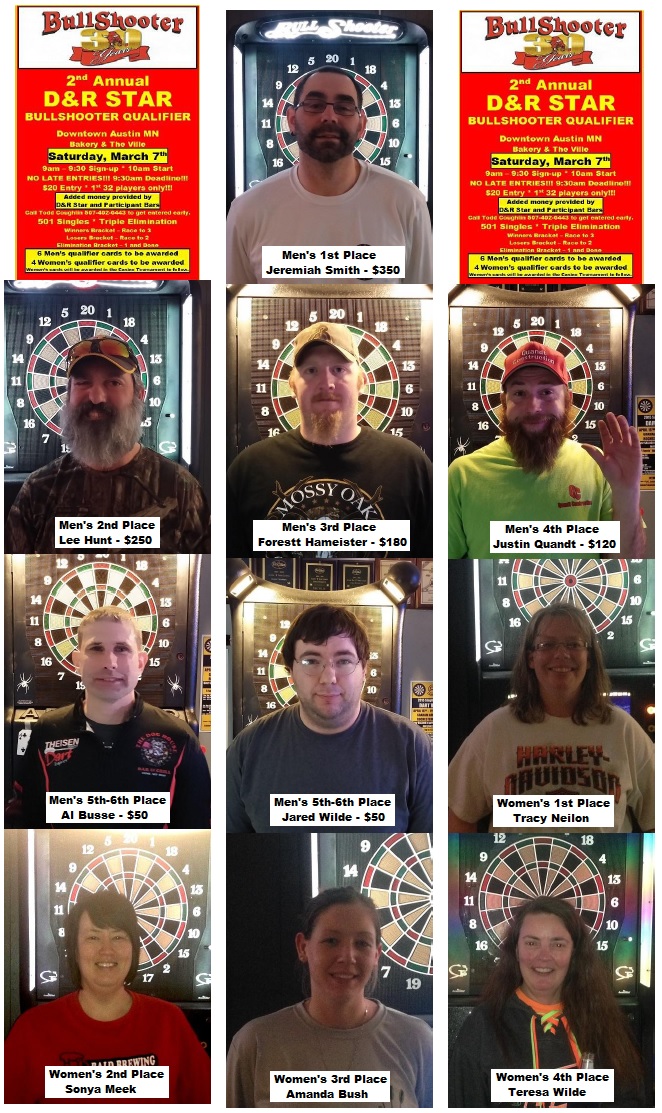 D&R Player Averages From MOMA 2015
| | | | | | | |
| --- | --- | --- | --- | --- | --- | --- |
| Player | PPD | G | | Player | MPR | G |
| Rick Espinoza | 32.29 | 25 | | Rick Espinoza | 3.67 | 25 |
| Lee Hunt | 31.35 | 25 | | Lee Hunt | 3.45 | 25 |
| Mike Kuiper | 30.05 | 38 | | Mike Kuiper | 3.21 | 36 |
| Justin Quandt | 29.31 | 24 | | Al Busse | 3.19 | 50 |
| Tim Vokoun | 29.12 | 38 | | Lance Springborn | 3.08 | 10 |
| Jon Gwilt | 28.22 | 24 | | Justin Quandt | 3.07 | 25 |
| Al Busse | 27.99 | 51 | | Jon Gwilt | 2.72 | 25 |
| Lance Springborn | 27.62 | 36 | | Tim Vokoun | 2.66 | 36 |
| Scott Rew | 25.34 | 33 | | Scott Rew | 2.62 | 6 |
| Gary Uzlik | 25.29 | 11 | | Gary Uzlik | 2.25 | 16 |
| John Jacobson | 24.36 | 20 | | Shane Futon | 2.22 | 11 |
| David Helmer | 23.26 | 31 | | David Helmer | 2.22 | 39 |
| Shane Futon | 22.71 | 20 | | Shane Bollin | 2.17 | 27 |
| Jamie Jacobson | 21.55 | 20 | | Marty Herman | 2.13 | 16 |
| Chad Lee | 21.35 | 20 | | Brenda Melius | 1.87 | 6 |
| Jeff Schmidt | 21.33 | 20 | | Teresa Springborn | 1.84 | 10 |
| Josh Giles | 20.83 | 34 | | Brian Gordon | 1.79 | 22 |
| Shane Bollin | 20.58 | 24 | | Josh Giles | 1.68 | 6 |
| Dawn Tollefson | 19.76 | 12 | | Dawn Giles | 1.62 | 6 |
| Brian Gordon | 18.87 | 26 | | Roger Deyle | 1.57 | 16 |
| Teresa Springborn | 18.55 | 14 | | Kevin Androli | 1.47 | 6 |
| Corey Carlon | 17.67 | 12 | | John Nesset | 1.41 | 16 |
| Dawn Giles | 17.67 | 32 | | | | |
| Kevin Androli | 17.56 | 31 | | | | |
| Tobey Masso | 17.01 | 12 | | | | |
| Kim Britt | 15.81 | 12 | | | | |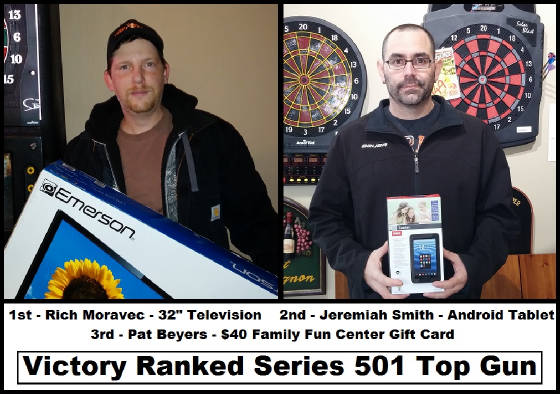 2014 D&R Star Summer Shootout Photos