Summer Leagues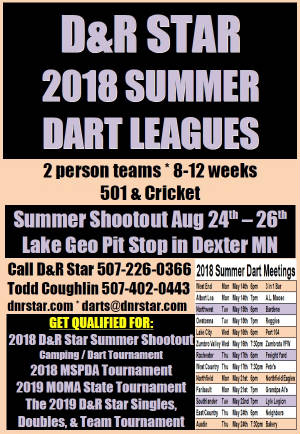 Fall Leagues

Coming Soon
8 Games
(Count Up - Bermuda Triangle - 501 MI/MO - Wildcard Ckt
Gotcha - Hammer Ckt - 501 13" face - Tic Tac Toe)
$3.50 per player + League fee (TBD)
Open Schedule * 8 - 10 weeks
2 player teams * G3 board required
Doubles & Cricket Leagues

wherever there is interest.
Darting News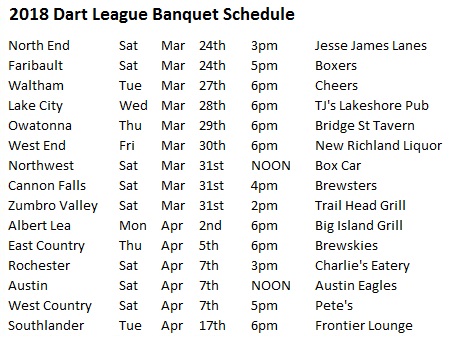 Upcoming Leagues & Events
D&R Star Sgls, Dbls & Team in Rochester MN - Apr 12th - 15th
Pink Ladies Cancer Fundraiser Dart Leagues
Adult/Youth Dart Leagues
Friday Night "Date Nite" Mixed Doubles Leagues
Contact D&R Star for information
about these leagues & Tournaments
or
Any other nights that you are interested in?
Doubles Leagues forming wherever there is an interest.
Todd Coughlin
Tournaments
Level 1 Classification
Doubles 59.00 / 6.20
Team 108.00
Be sure to check your Tournament Average and
compare it to your HIGHEST League Average
in the current sanctioning season (5/1/17 - 4/30/2018)
when putting your teams together.